Ganymedes is de grootste maan in ons Zonnestelsel,en heeft,net als Europa, een ijle zuurstofatmosfeer. Ook zijn er sporen van ijs gevonden. Ganymedes ligt niet in een gebied met verhoogde straling,dus is het mogelijk om op de oppervlakte van de maan te wonen.
Zowel Ganymedes als Europa zijn manen van Jupiter. In totaal heeft Jupiter 67 manen,waarvan er 51 kleiner dan 10km in diameter zijn. De 4 grootste manen van Jupiter staan bekend als de Galileïsche manen; dit zijn Ganymedes,Europa,Io en Callisto.
Lees ook deze artikelen; Colonization of Jupiter, Colonization of Callisto, Colonization of Europa, Colonization of Io. Op dit moment alleen nog in het Engels.
English article; Colonization of Ganymede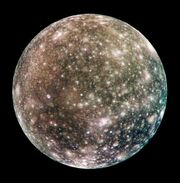 Ad blocker interference detected!
Wikia is a free-to-use site that makes money from advertising. We have a modified experience for viewers using ad blockers

Wikia is not accessible if you've made further modifications. Remove the custom ad blocker rule(s) and the page will load as expected.